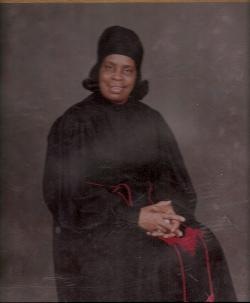 Dr. Evelyn Davis was born Doris Evelyn Henderson to Walter and Linnie Mae Henderson in Memphis, Tennessee. She was educated in the Tennessee School system. She held an Honorary Doctor of Divinity and a Honorary Doctor of theology from the University of California, Los Angeles. She met and married J.C. Davis in 1945 and he took responsibility of working along side Dr. Davis and
encouraging her in all her spiritual efforts.

Preaching became Dr. Davis' first nature as God called her into the ministry. In 1959, the late Rev. J.E. Watley, Jr. at the Garden of Prayer C.O.G.I.C ordained her. She fulfilled the position of Assistant Pastor during her tenure at the Garden of Prayer. Later, God told her to broaden her horizons in the ministry. In 1962, with a modest membership of six people, she started the Trinity All Nations Church in her living room. As time passed, the church continued to add new faces because of the growth and other unforeseen circumstances the church moved continuously. Dr. Davis moved in her location with just a bible purchased by S&H Green Stamps and a bouquet of Gladiola flowers. The last location was completely gutted by a fire.

However, this did not deter her, Dr. Davis continued to move further with the vision to build a new church. During Dr. Davis' tenure as Founder and Pastor of Trinity, she helped many people from various walks of life. She possessed the finesse to communicate at top levels of bureaucracy, while yet and still, she commanded the love and respect of the every laborer. Dr. Davis sponsored a "SAY NO" to Drugs program for the young people in the community. She often dug down in her own personal pockets to house the homeless, taking her own personal mortgage finances to keep many families from being evicted. She has given scholarships and paid school tuition for underprivileged children.

While reaching out to the community, Dr. Davis still managed to help bring souls to Christ and be the shepherd over the Trinity flock. She spread the gospel to her own hometown where she started a Trinity All Nations Church #2 in Memphis, Tennessee. Dr. Davis saw the vision become a reality and shared in the ground breaking ceremony in 1989, to date the church has continued to grow, auxiliaries have expanded, and the faith of the hearts of the members renewed. She went to be with our Lord & Savior February 1995.