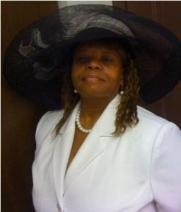 First Lady Evangelist Darlene Roberts was born July 24, 1952 at Wesley Memorial Hospital in Chicago, IL. She is the daughter of Dr. Doris Evelyn Davis, the late founder of the Trinity All Nations Church. She graduated from Hirsch High School and attended Cortez W. Peters Business College. The Words says, "Who can find a virtuous woman? for her price is far above rubies. The heart of her husband doth safely trust in her…She will do him good and not evil all the days of her life."
Our First Lady met and married a gifted songwriter and masterful composer Elder Larry E. Roberts, Sr.

"The LORD is my strength and my shield; my heart trusted in him, and I am helped: therefore my heart greatly rejoiceth; and with my song will I praise him," our First Lady sings from her heart. This Anointed First Lady is featured on several recordings with the Trinity All Nations Choir and many of their songs are aired on radio stations across the world today. While preparing for her greatest song, "I Love Jesus," this traditional gospel female vocalist perfected her unique sound with Professor Ernest Allen. "She has worked with many artists like: the late Rev. James Cleveland, the Queen of Gospel Albertina Walker, the Caravans, the Hawkins family, and the Mighty Clouds of Joy and this is just to name a few.

Weddings, revivals, anniversaries, home-goings, and other , Evangelist Darlene Roberts is among the elite Chicago leading lady vocalists requested to sing. Everyone knows that this "Mighty Woman of God" can usher in the Spirit of the Lord and set the atmosphere for worship like no other. The Lord has truly blessed her with the marvelous gift of song and she can truly sing you happy. First Lady Darlene Roberts accepted her call to the ministry in 1980 and was ordained by her mother the late, Dr. Doris Evelyn Davis. Her worship is for real and she is always willing to praise the Lord, pray for someone's deliverance, and inspire all in her presence with song.

Reaching forth with her hands to the needy, she has been a dedicated health care worker for 14 years and currently works with Addus Health Care. She has been a faithful member of the Trinity All Nations Church for over four decades and became the first-lady of the Trinity All Nation Church when the Lord promoted her husband to the pastoral ship in November 2002. She is diligently working with her husband and the church where our motto is: We have a New Attitude, New Direction, & a New Vision. She has been married for 45 years and has two adult children and three grandchildren, a son Larry Jr., a daughter Tramaine, two grandsons, Clemons Jr. and Jermaine, and two granddaughters Jasmine and Emani. She lives her favorite scripture: "But mine eyes are unto thee, O GOD the Lord: in thee is my trust."